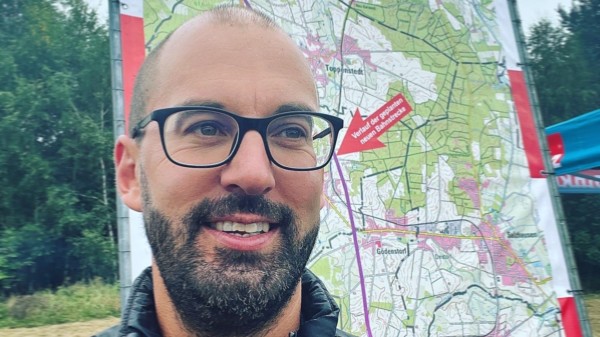 Foto: Frithjof Brandt
Vor der Übersichtskarte des geplanten Trassenverlaufs durch die Samtgemeinde Salzhausen
12. September 2022
:
Protest- und Informationsveranstaltung gegen eine ICE Neubaustrecke
Ein beeindruckendes Bild des Protests gegen die mögliche ICE-Neubautrasse durch unsere Samtgemeinde Salzhausen habe ich gestern in Garlstorf erlebt.
I saw an impressive picture of the protest against the possible new ICE railway line through our joint municipality Salzhausen yesterday in Garlstorf.
More than 1,500 people were at the protest and information event in Garlstof yesterday (September 11, 2022). To visualize a possible route, around 120 tractors marked the course of the planned route near the forest.
Previously, the agricultural machinery had driven in a parade through the village to the rally site near the shooting range.
The Deutsche Bahn and its information policy are criticized. The municipalities are only sparsely informed by Deutsche Bahn. Representatives of Deutsche Bahn had not been willing to come to a town hall in the district of Harburg for a discussion with the mayors of the affected communities. This had our Samtgemeindebürgermeitster on the last Samtgemeinderatssitzung from the discussion again.
In the last week mayors from the district Harburg were invited to a discussion with the German course. The representatives of the Deutsche Bahn had mentioned the idea to lead the railroad line in a tunnel under the Gödenstorfer forest.
The protest in the district of Harburg is directed against a new line, but not against an extension of the existing line. The municipalities in the district of Harburg and citizens' initiatives are strictly against an additional ICE route and demand the implementation of the publicly negotiated rail network expansion program "Alpha-E". This envisages the construction of a third track between Lüneburg and Uelzen and an upgrade of the existing line from Ashausen to Hanover.